When looking to sell a home, one of the rooms that potential buyers ask to see first time and time again is the kitchen, and one of the most important aspects of your kitchen is your cabinets. Dragon Scale Inc. has been helping homeowners revitalize their kitchen cabinets for years.
Dragon Scale Inc. is located in Jessup, MD with a local installation crew based out of Jefferson Hills, PA. We proudly serve homeowners and residents of Maryland, Pennsylvania, and the Mid-Atlantic region.
All The Newest Trends and Styles
There are so many different cabinet designs out there, and more are being made every year. We're proud to offer the wide variety we do in our showroom.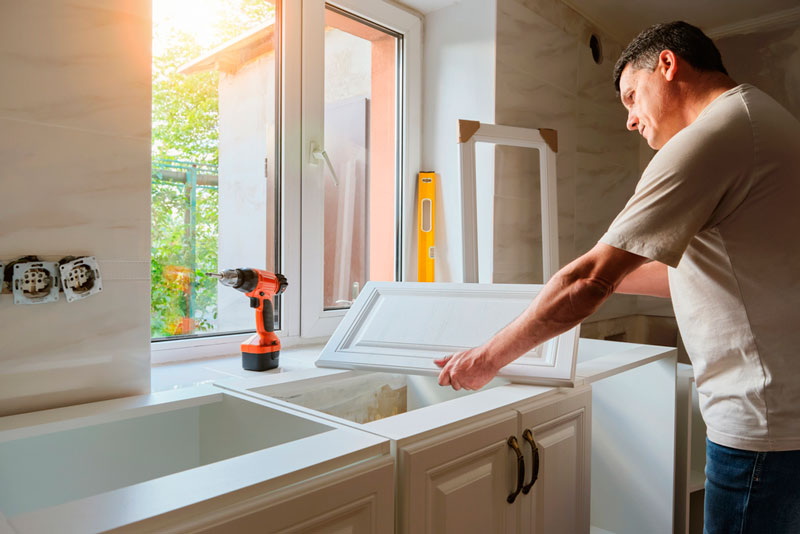 Installation Takes About 3-5 Days
The process of removing your drawers and doors, refinishing your cabinet boxes, and installing new drawers and doors, usually takes between 3 and 5 days.
Our team of cabinet contractors are highly knowledgeable, and all of the work they do and anything they install is backed by our guarantee of quality.
Contractors You Can Trust
All members of our team are fully licensed and have had background checks performed on them, allowing you to rest easy knowing the work is getting done efficiently and safely.
Upgrading and Refinishing Your Cabinets
What condition are your cabinet boxes in? If they're seriously damaged or dilapidated, then replacement may be the best course of action. However, if they're in decent condition, they can be refinished, saving you some money.
What style of door would you like? You probably want to choose a design that's going to accent your drawers, as well as the rest of your kitchen design. Luckily for you, there are many different cabinet door designs you can choose from.
Cabinet drawers, as well as drawer handles, come in many different designs and colors. Most people choose their drawers and doors together, ensuring they match aesthetically.
Our kitchen went from dark and outdated to bright, modern and beautiful thanks to the amazing work of Ryan and Korma. I was nervous at the onset of our kitchen reface but the guys were great and listened to all of my wants and concerns. They did great detailed work on both the cabinets and backsplash and made my vision a reality. I couldn't have asked for a better team and would definitely recommend them for any home project. Thanks so much for everything!! I still can't believe this is my kitchen.